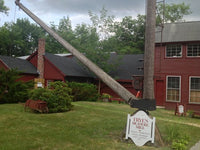 Welcome to Frye's Measure Mill!
A Historic Landmark listed on the National Register of Historic Places, Frye's Measure Mill has been water powered since the 1850's.  Some of the Mill's first products - including round and oval boxes, measures, and piggins - are still being produced on much of the original water-powered machinery.  Examples of Frye's oldest woodenware can be found in Museums throughout the country.  
Because of the same dedication to excellence in quality and craftsmanship today, as in the past, Frye boxes remain sought after by collectors across the country.
Museum quality collection
Frye's Measure Mill
12 Frye Mill Road
Wilton, NH 03086
603-654-6581
New Winter Gift Shop Hours:
Wednesday 10am - 5pm
Friday 10am - 5pm
Saturday 10am - 5pm
Sunday 12 noon - 5pm
Please call ahead to in the event of inclement weather to ensure we are open!